2020 in a lot of ways feels like the year of Evangelion.
The show's been undergoing a cultural reevaluation since the 2019 Netflix rerelease, including the first time the film The End of Evangelion has been available in western wide distribution since 2002. I feel like I wind up seeing a friend wind up starting the show for the first time on a monthly basis now, and alongside that a conversation in some film space about the show's more questionable story choices and aesthetic decisions (namely, the show is about young teens and doesn't shy away from treating them as sexual beings, and also its ending is Quite Upsetting and abstract.)
For those who haven't seen it, it's a show about three teens who fight giant monsters in mechanized suits called Evangelions. The show immediately wants to be clear that the fact that it's teenagers fighting the war for the future is deeply traumatic to these children, that they're far too immature to handle this war with responsibility, and that the adults exploiting them should be treated as predatory. In a year where people are constantly praising the teens for political activism while it feels like the world is ending while the gen-z mantra is "let me die," it's not surprising that it's striking a chord right now.
But the fact that there's a wave of new games that all feel of a piece with Evangelion has nothing to do with a rerelease a year prior. Games take a good while to develop – most games take two or three years, and at least one of the games I'm going to write about was first shown back in 2015. The truth is that these stories are probably always being told and being told with this degree of influence – but this year, they happened to rise to the cream of the crop more than once or twice.
My friend Stephen, the one I mentioned in my Rutger Hauer memoriam, wrote a comic in college about a young man's first time watching Evangelion, trapped in a college apartment during a depressive spell. I've thought about that a lot as I've been trapped in my own apartments during this pandemic, watching us all go a little mad through the internet. Evangelion's a story I hold dear to my heart, too, so I wanted to spend some time thinking about some games that felt like discovering that world anew.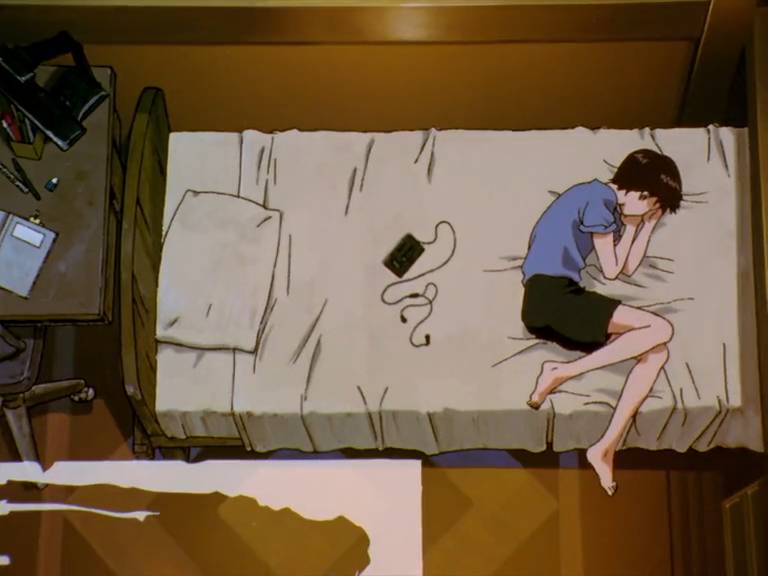 Here's to fucked up futures and arcane abstractions. This includes some general or minor spoilers, so, like, I highly recommend Umurangi Generation and 13 Sentinels to just about anyone, and Final Fantasy VII Remake to anyone who has played Final Fantasy VII. If you haven't played Final Fantasy VII…well, yeah, I still recommend the old one first, and it's cheaper and available on everything.
(And, no, I haven't played Cyberpunk 2077, I don't know that I'm ever going to do so, but it'd be silly not to acknowledge that particular fucked up future. Maybe one day.)
Umurangi Generation
All the photos you see in this write-up were taken by me in the game Umurangi Generation. I'm an amateur photographer at best, and pretty unfamiliar with how to use exposure, bloom, focus, and saturation to communicate my feelings in still photography. My experience with a camera better than your average $150 Nikon is more in film production, which I'm at best a novice in, but I know how to figure out a camera (if not how to play with it and break the rules.)
Umurangi is the Te Reo word for Red Sky. In the center of a statewide crisis, you play as a photographer sent to capture photography that documents the U.N.'s response, how citizens are holding up, and the still life of a city in the shitty future. It is the Waypoint Dot Zone Game of 2020 – 2 Mello, Cado Contreras, and Austin Walker have screamed about it all year, and Colin Spacetwinks called it "he best environmental storytelling i've ever seen in a game."
So, let's unpack. For one, the look is extremely Dreamcast, and the soundtrack has brief flares of Jet Set Radio to it (though not as much as some people have hyped – a lot of it is still very Dreamcast/PS2, but is more like aggressive techno than sample-based hip-hop.) That lends itself really well to taking photos that are extremely ~aesthetic.~ The photography simulation is pretty detailed, allowing you to change lenses, change your focus, set the exposure, and way more – and it scores you based on content, not on fundamentals, so you have a lot of freedom of expression. And then, also, the narrative you uncover is pretty fuckin' rad.
The narrative itself wouldn't necessarily make it on its own, mostly because it repeatedly and overtly references, yes, Evangelion – rather, it's about how you uncover it. As Spacetwinks said, it's all environmental – there's approximately three voice lines in the entire game, and they're basically just part of the soundtrack of certain levels. So alllllll the storytelling is environmental, and none of it is audiologs or email archives. Instead, you're given missions like "take a picture of 5 medical supply bags" or "take a picture of the word COPS." And when you find where those are, it's, well, more than the objective let on. The person paying you for taking the mission photo doesn't care, though. Just make sure the word "COPS" is real big – I don't really care what else it says. That indifference is core to what Umurangi Generation is all about.
The DLC expansion, Umurangi Generation Macro, is more direct. Macro tells the story of the days after the first disaster event, before the start of the game, in which there is still some degree of decadence in the privileged and direct action happening. Macro's finale places you in the midst of a protest going wrong – the moment you arrive, no riot cops are present, but you can see the fizzled out cans of tear gas on the ground. Macro slaps and is the correct finale to the Umurangi Generation experience.
Describing the themes of the game, director Veselekov said these in linked interviews:
Vista Magazine:
"I chose Umurangi Generation, you know, Red Sky Generation, because the idea was to talk about how our generation is coming of age at the moment having to deal with older generations destroying the earth in-front of us. And we can't really do anything about it. We can go and protest, sure, but in terms of being the people who actually push the buttons, we're limited in that space. The idea in choosing that title was that someday there is going to be a last generation. A generation who is in the position we're in at the moment. They're going to have to just sit by and watch. There's going to be a point where we can't fix it. A generation that won't have that same hope that I have at the moment.
US Gamer:
"The concept of the game's story and themes came from my experience with the bush fires that happened in Australia and the government's shit house job at not only reacting to them but ignoring the issue of climate change for years. The government in Australia has been ignoring the impacts of climate change for decades at this point. It is one of the things where they were warned for years in advanced about the bush fire seasons in Australia getting worse every year.
This stuff that happened in Oz [Australia] was simply the point where the bowl overflowed."
Waypoint, after Macro:
"I don't want to sugarcoat the reality that we're all going through," said Faulkner. "I don't want to dumb down the severity of the problem. But if there are people activated from [playing Umurangi Generation] who think about this stuff a little bit more, or think about the stuff a little bit more when they're playing games even, I think that's a good thing."
I don't yet know how many games of the year there are – I've played at least nine. Umurangi Generation is the game of the year because it speaks to the worldwide strife of 2020 without being about COVID or Black Lives Matter. It imagines how people might rebuild the world in the face of overwhelming indifference – not by changing the fate of everyone, but by taking control of what they can do right now for their local community and their loved ones. And it expresses those themes, which feel so core to 2020, in a way that feels unique to video games and unique Within Video Games without sacrificing a moment of arcadey fun.
Final Fantasy VII Remake
It should never have worked.
1997's Final Fantasy VII, perhaps the most credible First Text of Video Games, has a legion of fans who love it and it's characters wholeheartedly and very defensively. Its story of ragtag heroes battling tbe corporate police state Shinra's ecological destruction, only to have to battle the maniacal eco-fascist Sephiroth at the same time, was one of the most complex stories told to date. Its characters had the trademark psychological depth (and emphasis on trauma) to match that of anime like Evangelion, too, beyond the appearance of mechs and ancient monsters. The plot twist closing the first disc is the Luke's father or Rosebud of video games.
The original Final Fantasy VII is also an archaic and often frustrating game, from its retrograde gender politics to its lower-quality minigames and its, uh, extended playtime. The original release was also marred with an infamous messy translation, with each line transcribed out of order and without context, leading it to be very easy to interpret characterizations entirely differently from other fans – or other languages. It's an incredibly personal game for those who love it, and often a game where players with faithfully adhere to aspects of its story or gameplay and then condemn aspects of the game to be suffered in silence.
This Remake manages an incredible feat, expanding the first ten hours of Final Fantasy VII into a full length RPG and improving on the minute-to-minute gameplay almost every step of the way. The combat is an action game that is smooth as any devil may croon, with every character's moves filling out their own satisfying playstyle and matching their reimagined personalities. Expanded versions of fights against enemies like the Hell House are transformed into incredibly inventive battles I won't forget soon.
The characters are more lovable than they even originally managed, with the extended runtime adding more genuinely fun and warm interactions. A new side mission for original supporting cast member Jessie becomes a great exploration into how middle management will live in dystopia – and a lovely interlude with the game's warmest characters. The friendship between Aerith and Tifa is now one of the game's greatest strengths. These new characterizations also come alongside the game openly acknowledging the cost of revolution – and then not blinking at its necessity. I'll also say some of the characters are still baked in retrograde understanding of marginalized people, not something I ever expect a Tetsuya Nomura game will get right.
The game is an aesthetic feast – I cannot imagine when I will see a more beautiful game with more wonderfully rendered music. I love the look of the original game's pre-rendered environments – this game's mechanisms and Every step through the city-state of Midgar still feels like the home the game created in 1997, but rendered with impossible, incredible beauty – the sort which force you to wonder how the game's messages about corporate exploitation can possibly come from a genuine heart.
Games of this scale, as opposed to the outsider art of a game like Umurangi Generation, are made on broken backs and broken promises. I won't sugarcoat that. The urge to build more powerful game engines and technologies force games far beyond even the work behind ordinary labor issues. There are no stories about the labor behind Final Fantasy VII Remake yet beyond how long the game took to release – whether their stories are told or not, it will not be the first or last game worthy of love that also requires an awareness of the game's very real human cost. I hope that translator of the original game, left with a spreadsheet of unsorted lines of dialogue and a threadbare budget, is healthy and happy in the quarantine.
What elevates Final Fantasy VII Remake above a retelling of a beloved story is the thing it takes most from Evangelion – that word Remake could easily be replaced with Rebuild. Over the course of Final Fantasy VII Remake, it becomes clear that some pivotal elements of the story are changing, and the game's universe is becoming aware of these changes. Eventually, the nature of Remake becomes clear – this is, really, a sequel to Final Fantasy VII, set in another timeline. Sephiroth has survived the original game to try to change his fate – he challenges our heroes, not all of whom survive the original Final Fantasy VII, to change their own alongside him. The next game will chart unknown territory as the stockade of the story we know is unbound.
I don't yet know how many games of the year there are – I've played at least nine. Final Fantasy VII Remake is the game of the year because it treats itself as an adaptation of a classic text, like Gerwig's Little Women. I cannot imagine the next time a project will so thoroughly and excellently modernize the story it tells while also respecting how essential the original is as its own standalone work. And it does so while serving the sort of beauty and excitement that I cannot help but feel to be Ozymandian.
13 Sentinels: Aegis Rim
In Vanillaware's 13 Sentinels: Aegis Rim, teenagers who experience a world-threatening event from kaiju pilot giant robots to defend the last bastions of humanity in the city they call home. It is, from the beginning, unsubtle about its relationship to Evangelion. However, 13 Sentinels: Aegis Rim offers the sort of convoluted layers of plotting to make a Metal Gear fan's head spin. I cannot begin to explain what the final plot of this game would be in this blog – for starters, there's time travel, androids, femme fatales, men in black, talking cats, amnesia, virtual reality, and a whole lot of mistaken identity.
This is a silly game, a puzzle box of love for genre tropes. Like Evangelion, a lot of what it offers has been done before – what matters is its presentation and its tone. The titular 13 Sentinels all have their own interweaving storylines, all accessed in their own stories. During the game's narrative sequences, you play as one of the thirteen pilots, exploring the town they call home and uncovering one of the game's many twists and turns. Most of these character's storylines can be played in any order, meaning it's entirely possible to focus on one character's storyline before another's and receive the twists in an entirely different order.
What's so impressive about this game is almost everybody I've talked to who's played this game seems to wind up following different characters first and still encountering all the game's turns as compelling. Knowing information from Shu Amugichi's story of friendly flirtation and restless nights of strange dreams heightens the suspense of Juro Kurabe's story daily nightmares and his pushy best friend Kyuta – but, told the other way, the dreadful realization about Juro in Shu's story would clear everything in a shocking twist. The game trusts the player to be able to connect information into compelling drama by freeing the flow of information in this way.
This sort of storytelling also only works if you like at least most of the characters, and I think they land that balance very nicely. There are a lot of great jokes that aren't purely referential, and it makes for a pretty easygoing playthrough. One character was so prone to whip out her gun that my wife and I would make jokes about her doing so every time. If you have a tolerance for high school stories (and I get why anybody would not,) 13 Sentinels has a nice blend of characters trying to project an image of who they think they're supposed to be, overly emotional kids getting themselves in too deep with dangerous situations because their emotions are running completely haywire, and emotionally vulnerable softies who just want to figure out why everything seems so hard. It generally avoids getting too saucy with the actual storylines, but some of the art (especially the school nurse!) definitely still leans into Vanillaware's history of hypersexualized characters.
Less universally compelling is the game's other major element – the mech battles. These play out as a strategy game not unlike tower defense, with limited graphics and level-by-level iterative stat gains. Each battle has you bringing six of the thirteen sentinels into the battlefield and controlling each's giant robot with their own special abilities. I actually quite enjoyed the strategy layer of this game, finding it just challenging enough to force me to pay full attention to succeed despite never losing a battle. I am, uh, fairly alone in this opinion – most people encourage players to dial it down to the easiest setting. But, seriously, if you like strategy games where making advantageous moves is rewarded without much room for pushback, this makes for a satisfying game!
I don't yet know how many games of the year there are – so far, I've played at least nine. 13 Sentinels: Aegis Rim is the game of the year because it tells a strong, engaging ensemble story while reenvisioning how to actually navigate the ensemble. This game invites a new form of hyperlink storytelling that utilizes the medium for a modern form of mystery. It's hard to imagine going back to the old format of a mystery game like Danganronpa now, with the best moments happening offscreen because I'm stuck in the perspective of a milquetoast protagonist who cannot change or grow dramatically without endangering player agency. And though the last ten minutes or so of the story were maybe a little too optimistic for me, the ride to get there was an all-consuming ride I couldn't put down once I started.